I´ve been a fan of aviation since my early days. As a child, I loved visiting my local airport each week to see my father come and go on his business trips, plane spotting the few aircraft that landed at it. Later, started collecting toy models and piloting in flight simulators since I was 10 years old. When the time came, I decided to start a more formal collection of aircraft in the 1:400 scale.
It´s been a while since I´ve embarked into the task of finding out which are the "best" brands for any given aircraft type made in the 1:400 Scale. Soon, I found myself in a sea of information about different types of aircraft, moulds, brands, and most of all, points of view. This showed up to be no easy, neither short task.
But in the end, I was determined to finally achieve my goal: to graphically display each one of the more than 130 aircraft types that have been made, and to reach a sort of reasoned conclusion about
which is the best 1:400 scale manufacturer
.
What I´m about to show you, are the latest results of my work and investigation.​
Rules of the ranking:
By "Best" I´m referring mostly to the technical aspect of the moulds used, how accurate to the real stuff they are compared to their rivals. Having said this, the # and variety of aircraft produced is also taken into consideration.
I´m considering the latest mould each brand has used (ie: I´m not considering the earliest of GJ moulds, since many of them have already been updated.
Rather than just ranking the mould, I´m mostly taking into consideration the brand that has made use of it.
I´m ranking the best 3 brands, and considering the 4th best for diversity purposes.
If there are less than 4 brans to consider, the spaces will be left blank.
Please note that:
I´ve decided to also add some minor brands that also produce some unique moulds.
This ranking is based on brands themselves, rather than the moulds each one of them produce, given that some brands have used 3rd party moulds.
I´m fully aware of a lot of other brands that have some great quality models but given the little to no information that I´ve found about them, I´ve decided to take them out (for now).
There´s lots of information and comparisons between the 747s of all generations, so I will need your help in order to develop their rankings
Of course, this is very a subjective topic, therefore I´m taking this "investigation" to all of you, so we can discuss and argue in order to further develop these charts. Said this, there will always be personal preferences and points of discussion and that's always great.
Big thanks to Yesterday´s Airlines, who gave me some great framework via his website.​
The Brands included (for the time being) in this ranking are:
Gemini Jets / JC Wings
Phoenix Models
NG Models
Aeroclassics
Herpa / Hogan
Aviation 400
Panda Models
Jet X
Apollo / Witty Wings
Dragon Wings
De Angostini Models
Seattle Aircraft Models
Retro Models
Without further delay, I present the results: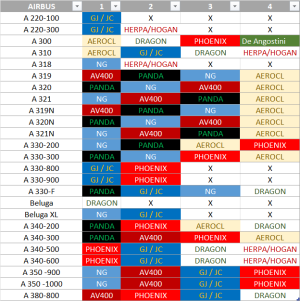 Airbus seems as one of the most competitive sectors, with lots of new high quality moulds and some older, but surprisingly good ones. In my opinion, the thoughest battlefield today in 1:400 scale.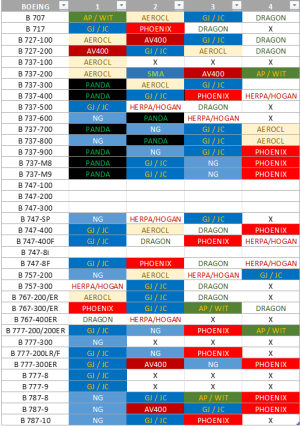 On the othe hand, boeing aircraft still shows some variety, but in most cases, It´s easier to find a clear 1st place for each aircraft type.
This I where I need your help the most, I´m still missing the 747 rankings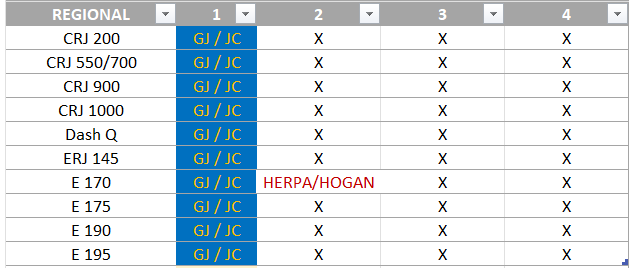 It is no surprise that Gemini & JC fully dominate the regional market in the 1:400 scale, only herpa and it´s occasional E-170 make pressence here.
Looking at the Douglas / McDonell Douglas aircraft, clearly shows off an area of opportunity for new brands to make a footprint, given the relative old age of the moulds being used, but still, Aeroclassics seems to be your go option when it comes to Douglas aircraft, while Gemini & JC wings still have the best McDonell moulds (Though heavily underused MD-80s).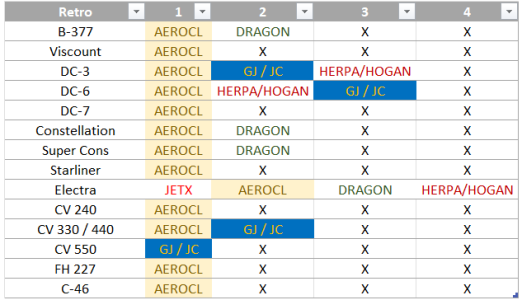 Looking at other aircraft manufacturers,
On the other hand, Aeroclassics singlehandedly takes the throne of pre jet airliners.
To sum it up, these final charts show the brands ranking based on raw points, number of models and average quality for each one of them.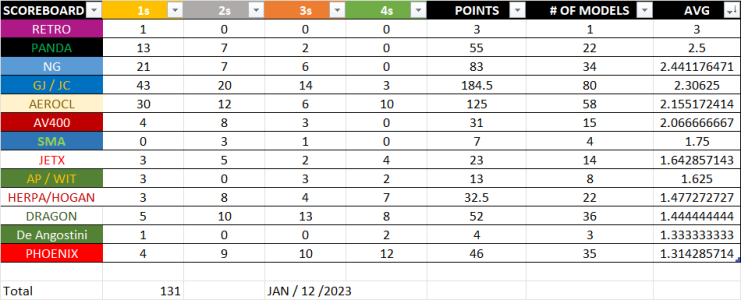 My personal conclusions are:
The absolute variety of Gemini Jets and JC Wings offerings put them, like or not, as a must go to brand for lots of airliner models.
Aeroclassics remains (and will be for a long time IMO) the best resource of classic aircraft, but still shows off its capacity to compete in the modern airliner field.
Phoenix, while being the 3rd biggest brand still in service, leaves a lot to be desired in terms of quality.
Panda, NG & AV400 have brought a lot of fresh air and innovation to the scene.
What are your thoughts? Please let me know!!!