Continuing from part one, the next special scheme, Triple Crown One, was applied to 737-3H4 N647SW on 6/9/1997. The aircraft is dedicated to the company's employees for achieving five consecutive "Triple Crowns". This is a term that was conceived by Southwest for its having been shown in the U.S. Dept. of Transportation's published airline performance data as having the best on-time performance, least lost/damaged baggage, and fewest customer complaints for a given year. Southwest's consecutive run was from 1992-1996. Since no one has made a 1/400th scale model of N647SW, no photo is available. N647SW was retired on 8/14/2017. The Triple Crown One scheme was applied to 737-7H4 N409WN on 5/22/2015, which I do have a model of: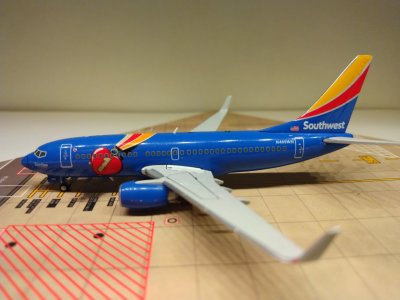 The next state flag scheme, Nevada One was applied to 737-7H4 N727SW on 6/21/1999. As of now, N727SW is still in service but is scheduled to be retired at the end of October, 2022. The model I have is as-delivered in 1999:
The next state flag scheme, New Mexico One, was applied to 737-7H4 N781WN on 8/30/2000. As of now, N781WN is still in service. The model I have is as-delivered in 2000:
Almost 5 years passed before the next special scheme was introduced on 6/14/2005. 737-7H4 N214WN Maryland One:
There were 3 special schemes introduced in 2005, the 2nd one being 737-7H4 N711HK on 7/8/2005 in a special gold scheme in honor of Herb Kelleher, Southwest's founder.
Unfortunately, no one has made a model of N711HK, and it was retired on 3/11/2022. The good news is that this scheme as been applied to 737-MAX 8 N871HK which will be entering service very soon, so hopefully someone will make that one in 1/400th scale (and get the color correct).
The last special scheme introduced in 2005 was on 11/3/2005 was in recognition of Southwest's partnership with the National Basketball Association. Slam Dunk One was applied to 737-7H4 N224WN. On 10/10/2010, the partnership was ended, and N224WN was repainted into canyon blue on 10/11/2010. It is now in the current "Heart" scheme. Photo is of N224WN in Slam Dunk One scheme: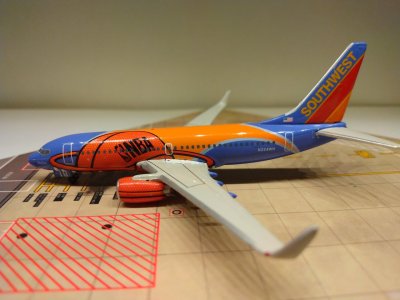 The next scheme was introduced on 4/10/2007, a 2nd "Gold Retro" scheme applied to 737-7H4 N714CB. N714CB was retired on 5/13/2022, and a New 737-MAX 8 N872CB will be painted in Canyon Blue in honor of Colleen Barrett, President Emeritus of Southwest Airlines. In 2001, she became the first woman to hold the office of president at a major airline, and her leadership was crucial in the aftermath of the events of 9/11. Southwest was the only major airline to be profitable during the fourth quarter of that year, and one of the few that didn't have to lay off employees. Photo is of N714CB: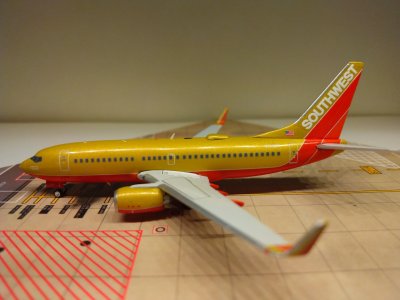 The following year, on 4/14/2008, 737-7H4 N918WN was introduced in the Illinois One scheme. N918WN was returned to the lessor on 11/20/2020, and 737-8H4 N8619F was introduced in the Illinois One scheme on 9/26/2022. Photo is of N918WN: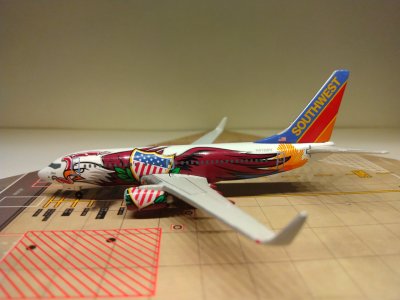 2 years later, on 4/23/2010, 737-7H4 N945WN was introduced in the Florida One scheme, and is still in service today: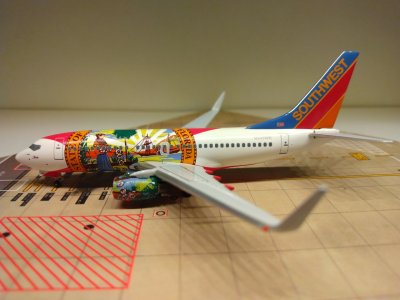 On 8/22/2012, 737-7H4 N230WN was introduced in the Colorado One scheme, and is still in service today: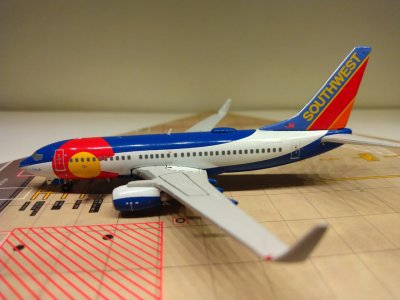 On 6/20/2013 to commemorate the 25th Anniversary of Southwest Airlines' partnership with SeaWorld, 737-7H4 N280WN "Penguin One" was painted to look like penguins, and advertisements for SeaWorld were displayed on the overhead bins inside the plane.
After Southwest's partnership with SeaWorld came to an end in March, 2015, N280WN was repainted into the "Missouri One" livery.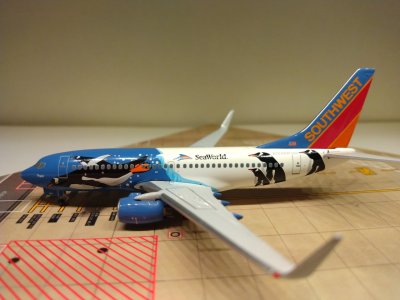 continued in part 3
Last edited: