Since I've done a thread on the special schemes of Southwest Airlines, I thought I would do a similar thread on US Airways.
About a year after the merger of America West and US Airways on 5/57/2005, US Airways began painting some A319's into special schemes.
The first one was introduced on 3/25/2006, when A319-132 N742US was reregistered N742PS and repainted into a Pacific Southwest Airlines (PSA) heritage scheme: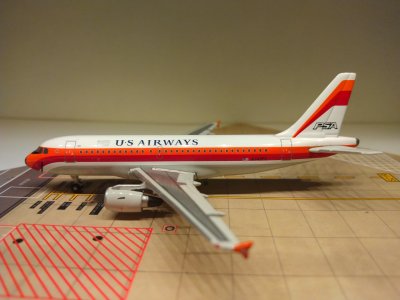 On 4/9/2006, A319-132 N745UW was reregistered N745VJ and was repainted into an Allegheny Airlines heritage scheme: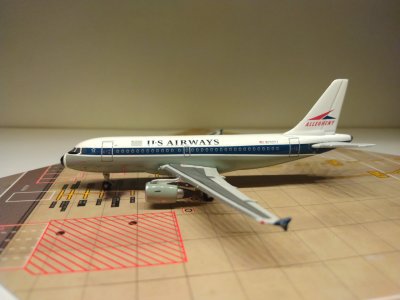 One month later, in May 2006, A319-132 N744US was reregistered N744P and was repainted into a Piedmont Airlines heritage scheme:
One month later, in June 2006 the last 2 heritage schemes made their debut. A319-112 N828AW in America West's first color scheme introduced in 1983: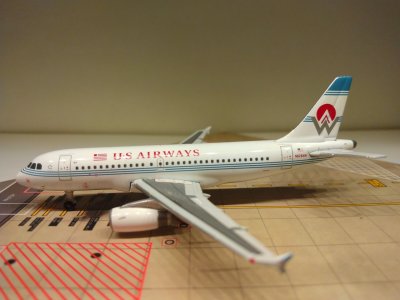 And also A319-112 N838AW in America West's final color scheme, introduced in 1996: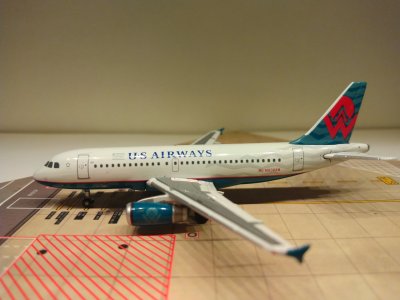 All of these heritage schemes remain after the merger with American Airlines in 2013 all with "American" titles with the exception of N828AW, which was repainted into the standard American scheme.
Starting in October 2006, more A319's were painted into 4 NFL team themed schemes, 1 each from their primary hubs (The NFL teams used US Airways for travel to their road games)
The first one was A319-112 N709UW painted in Philadelphia Eagles scheme (PHL hub):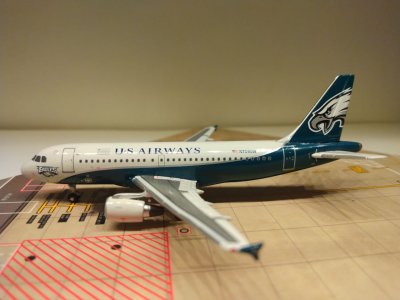 Next, in December 2006 was A319-132 N837AW in Arizona Cardinals scheme (PHX hub):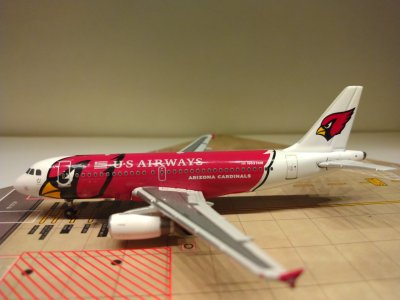 The last 2 have never been made in 1/400th scale, and remain very high on my wish list. A319-112 N717UW in Carolina Panthers scheme (CLT hub), and A319-112 N733UW in Pittsburgh Steelers scheme (PIT hub). All 4 of these were repainted in the standard American scheme after the merger in 2013.
The last 2 special schemes were a throwback to the America West days when 2 757's were painted in the Arizona and Nevada schemes for PHX and LAS (both major hubs for America West). Both were introduced in May 2007. A319-132 N826AW was painted in the "Arizona" scheme: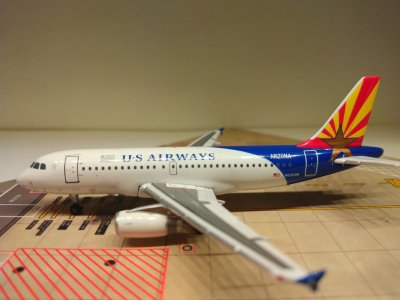 A319-132 N822AW was painted in the "Nevada" scheme.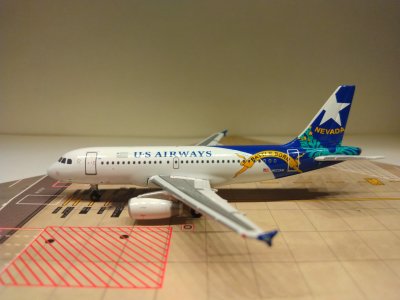 Just like the 4 NFL special schemes, these were both repainted into standard American colors after the merger in 2013.
Last edited: