Hello everyone! Here are some Continental Nines for this Livery History thread today. Let's see how it's evolved:
1 - Golden Jet (1966-1968)
N8964 was the first Nine for Continental, delivered in the summer of 1966, which was a Series 14. The Golden Jet livery on the Short Nines didn't last too long, as a new livery was right around the corner.
Their first Series 15 came the following year.
2 - Black Contrails/Meatball (1968-1975)
Saul Bass created the iconic Contrails (or Meatball) livery for Continental, debuting across the fleet by 1968. The logo on the tail was originally black during Bob Six's tenure.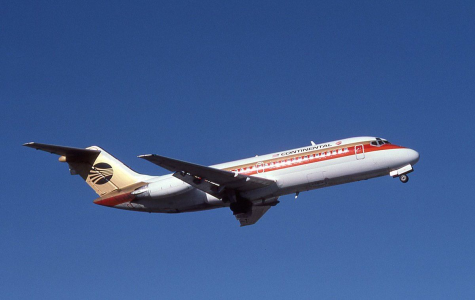 By the mid-70s, Continental sold their Nines to Hughes Airwest. They would be back a few years later…
3 - Texas International Hybrids (1982)
In 1982, Continental and Texas International merged, with the former being the surviving entity, and the Nines returned. Frank Lorenzo took over that year coming from TIA. Hybrids from this time had a couple variations, one bearing the Meatball logo, and the other bearing a fuller TIA livery: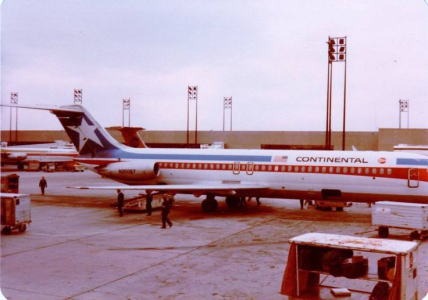 4 - Red Meatball (1982-1990)
With Lorenzo now at Continental, general changes were made for the airline. The Meatball turned to a red color as well, likely the point where the nickname comes from.
Larger titles were added a few years later which removed the Meatball in front of the CONTINENTAL titles: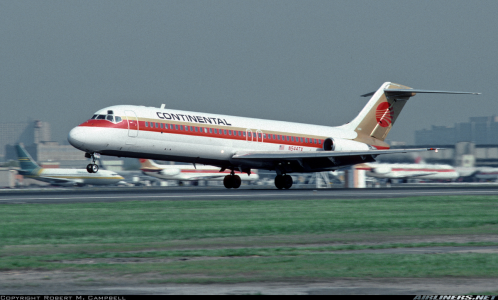 5 - Globe (1991-2000)
Continental's final livery, Globe, came about in 1991. At the same time, the first stretched Series 50 was delivered to the airline. The Series 10s were also retired and would not wear the new livery.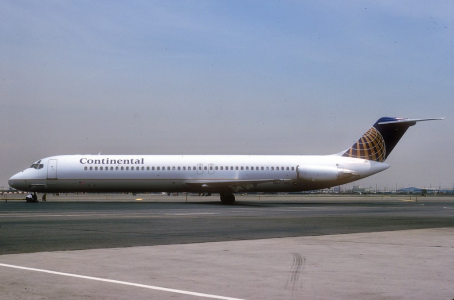 By the dawn of the 21st century, the Nines were sold off and Continental officially retired the type in 2000, ending over 20 years of operation of the type. Continental never had the Series 40 but operated all the other types. I hope you enjoyed!