Hello everyone! Here's a livery history out on the west coast of the US, today with Pacific Southwest Airlines, better known as PSA! It's a little short but nevertheless holds up to the previous threads I've done.
1 - Delivery (1965, 1967)
N970PS was the airline's first 727 (and first true-jet for the airline for that matter), a -100 series (designated 727-14), delivered in April of 1965. At the time, the airline had a white top with bare metal belly, a red cheatline with PSA titles above and the full airline name below it, along with a red line through the tail with PSA titles. I'm not sure of a name for this livery; if anyone knows or comes up with a nickname for it, feel free to reply!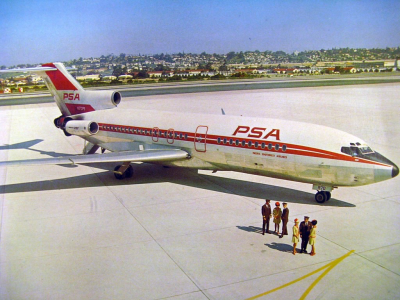 A couple of years later, the 727-200 joined the fleet. Note the SUPER 727 titles on the engine of this aircraft. A few -200s would wear this livery.
2 - Smile (1968-1985)
Known as the World's Friendliest Airlines by the 1960s, PSA seemed to take advantage of this and introduced a new livery towards the end of the decade. The PSA Smile became dominant in the western US by the 70s and I personally love it!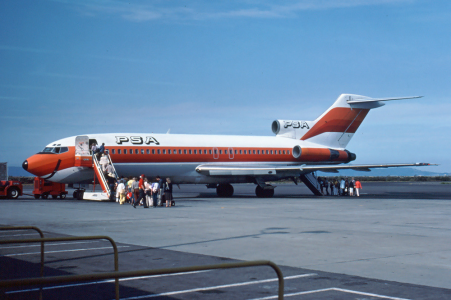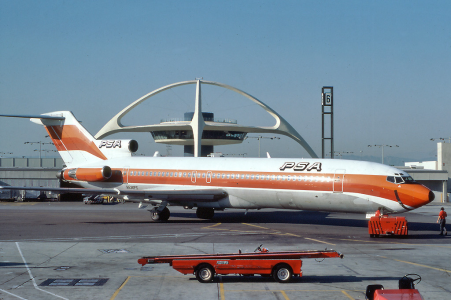 One 727-200, N555PS, wore a special livery to celebrate the 50th birthday of Donald Duck. The Disney character had its Golden Anniversary in 1984.
In addition, one 727 also had a PSA/Continental hybrid; unfortunately I couldn't find anymore photos of it. If anyone finds a better photo, feel free to post it!
Towards the 80s, the 727s were phased out in favor of the MD-80. They were fully retired by 1985, just a few years before the merger with USAir. Fortunately, one A319 (N742PS) for American still wears the PSA Smile, so its legacy lives on. While this was short, I hope you enjoyed!