Hello everyone! Here's another livery history thread, this one focused on Ozark's DC-9s and where they went after.
1 - Delivery -10 (1966)
Ozark took delivery of their first jets from Douglas in 1966. N970Z, from what I could find, was their first DC-9, a Series 10. The livery at the time featured three swallows on the tail with a green line growing from the front on back.
2 - Delivery -30 (1969)
The first DC-9-30 arrived into Ozark's fleet in 1969, with N979Z delivered in February of that year:
I have to say, I've not seen this scheme on a Series 30 before, mainly on the Series 10 and their F-27s.
3 - Larger Titles (ca. 1970s)
Sometime in the 1970s, Ozark gave their livery a slight update by enlarging the OZARK titles up at the front. I think it worked out well, as you can now see the airline name clearly from a far distance.
A sort of "experimental" livery was painted onto N968E, a Series 10 coming over from Texas International. I believe this was the only Ozark Nine to have this particular paint scheme. To be honest I like this livery; I wish they would've kept this one.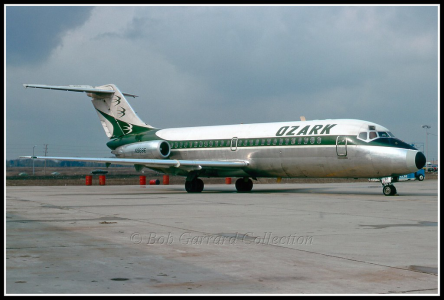 4 - Stripes (1979-1986)
By 1979, Ozark introduced a new livery, of which I've called Stripes. The Three Swallows are now incorporated into a filled rectangle with the OZARK titles on the tail.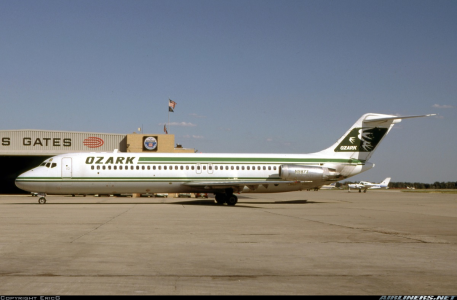 5 - Ozark/TWA Hybrid (1986)
TWA acquired Ozark in 1986, and with it came a new hub in St. Louis for the airline. As with most airline mergers, a unique hybrid livery came out of this merger. Funnily enough it's almost identical to the Twin Stripes livery TWA would equip these DC-9s with later.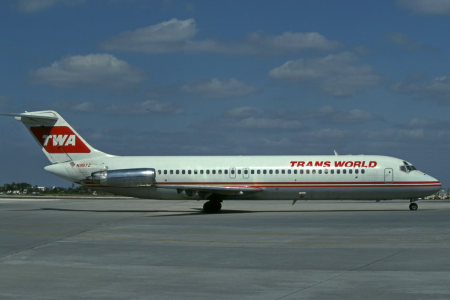 6 - Twin Stripes (1986-1995)
Many people know this livery very well. The main difference between this and the Ozark/TWA hybrid is the stripes enlargement from the front on back, and also a slight shrinking of the red rectangle with TWA titles on the tail. Some DC-9s were also equipped with black stripes on the wings.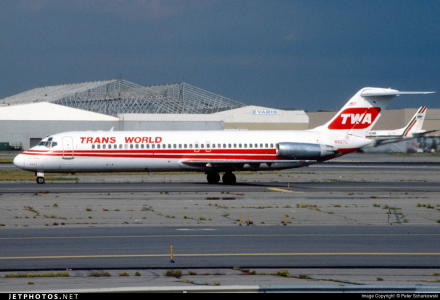 7 - Final Livery (1995-2001)
In the midst of bankruptcy, TWA introduced a new identity in 1995. This would be the last livery the ex-Ozark DC-9s would wear. Note the black stripe towards the leading edge of the wing.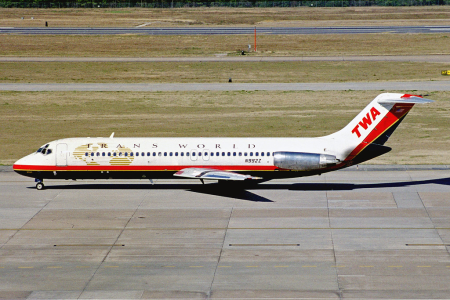 None of the DC-9s would make it to American; they did take the four DC-9-80s, aka MD-80s, Ozark got before the TWA acquisition, along with the gargantuan fleet TWA had. Hopefully you enjoyed this read!
Last edited: