The Spirit of Delta has been an iconic airplane within Delta's fleet. Over its years of service it wore a handful of liveries.
So what's The Spirit of Delta and how did it get its name? To start, Delta had historically been making a profit. In 1982 however, they would post a loss in a quarter for the first time since 1957, at about $18 million. Employees at Delta decided to start raising money to buy the airline a new aircraft as a token of appreciation for Delta. The aircraft in question would become Delta's first 767. By the end of the year, ship 102 was presented to Delta and named The Spirit of Delta. Let's see how the liveries evolved over the years.
1 - Delivery (1982)
Here is N102DA at her ceremony with a bow tie around the wing area. I can feel the excitement shown by everyone in this photo.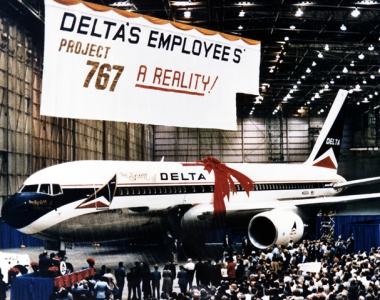 In addition, 102 wore a couple variants of the Widget livery in 1982.
More recently, I found out 102 wore the standard Delta livery for a brief time, likely right before delivery to the airline.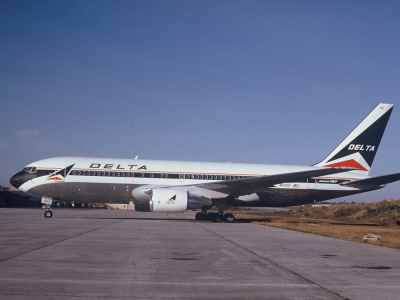 102 was also taken to the Farnborough Airshow that year with a modified livery, adding 767 titles on the tail.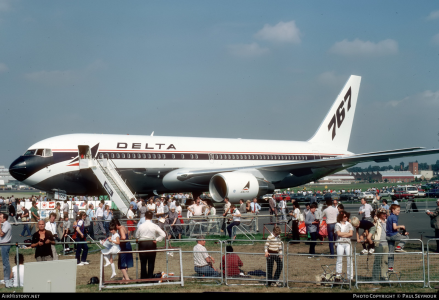 Once in service, she wore her The Spirit of Delta livery. It added a gold trim around the front widget and gold "The Spirit of" titles. A very subtle change to the overall livery but a significant impact for its meaning to the airline.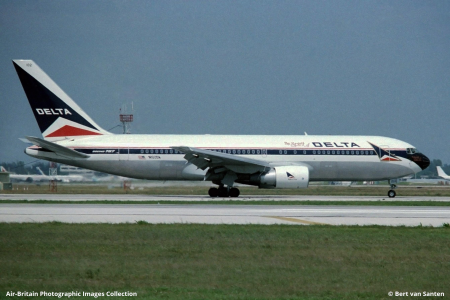 2 - The Olympic Games (1996)
When the Summer Olympics came to Atlanta in 1996, Delta celebrated by painting 102 in a special Olympic livery.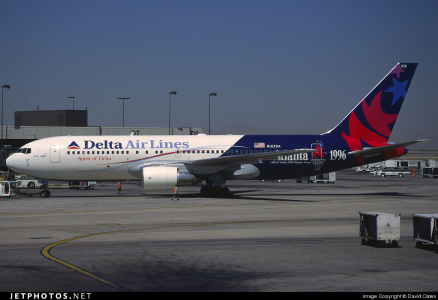 3 - Deltaflot (2000)
Surprisingly there aren't many photos that I could find of 102 in the Deltaflot livery, so initially I thought it only existed in model form as Gemini Jets did it at one point. Nevertheless there are a couple photos of it in this livery. This would be the last unique "regular" livery 102 would wear in service.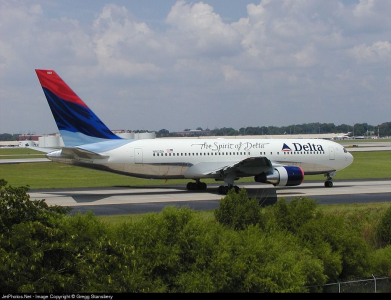 4 - 75th Anniversary (2004)
In 2004, 102 would be painted into another special livery, this time commemorating Delta's Diamond Anniversary.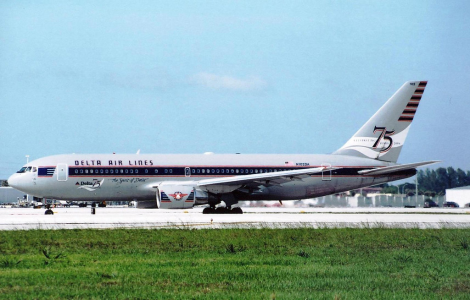 Just a couple years later in 2006, Delta would retire 102 from the fleet, but not without a special retirement tour. Its Farewell Tour took it across the United States in early 2006. It was also repainted into the original livery from 1982 for commemoration.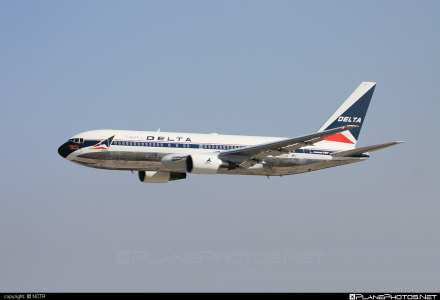 After its Farewell Tour, 102 was taken into Historic Hangar 2 where it now rests as part of the Delta Flight Museum, just north of the Atlanta Hartsfield Jackson International Airport. Visitors are able to go inside the plane and explore some of the many artifacts the museum possesses. I'm hoping to go there myself in the future.