Thought it might be fun to collect the various differences that can be spotted on a "747Classic" (1970 to 1991) - many of these are worth to be molded correctly, some details are sure over the top in 1/400 and are more for the serious (larger) scale modeler. So this is really just for the fun.
First and most classic 747: the 747
-100
as seen in the early 1970's
Here's D-ABYC with the typical SATCOM aerial just aft of the upperdeck, HF-antennas on the wingtips, early "straight" pylons and JT9D nacelles with secondary air inlet ("blow in") doors. (Note that #1 is idling in this image!)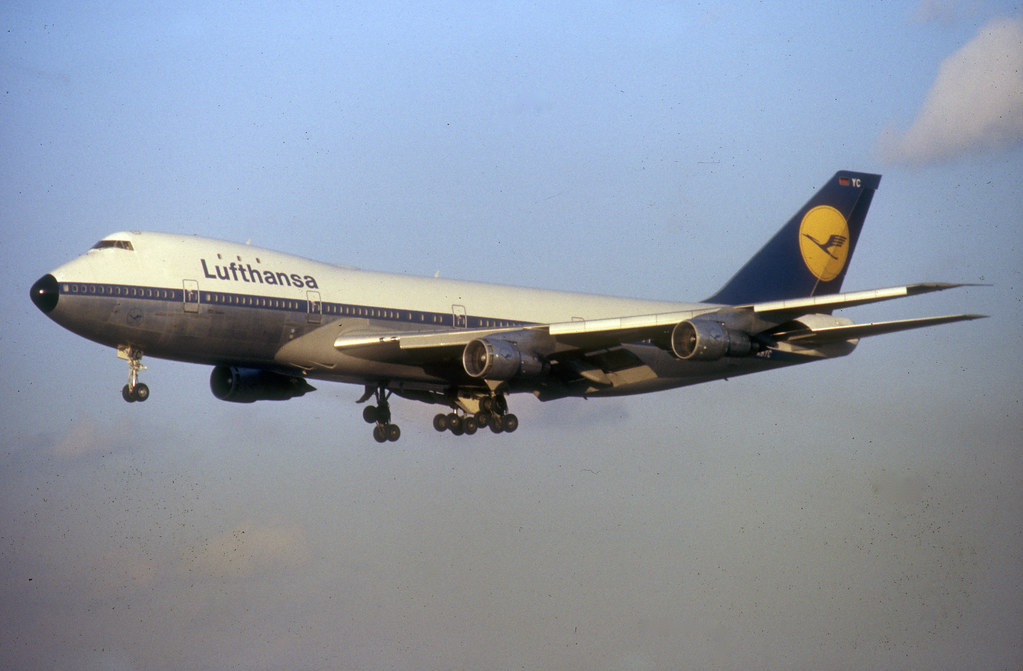 Lufthansa Boeing 747-100; D-ABYC@FRA, June 1976
by
Aero Icarus
, auf Flickr
And here's D-ABYD, a typical early 1970's 747
-200
Spot the difference? All the same? No. Look at the wheels. The series -100 was certified for 46x16 (707 series) tires, the basic weight variant 713 even for 44x16.
An early -200 had to roll on the larger 49x17 due to increased weights. But be aware that this only works one way: small tires can't be a -200, but larger tires could be a -100 (variant 753)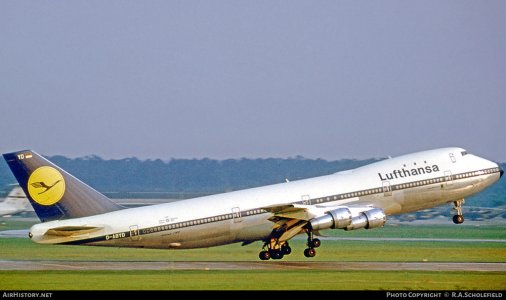 https://www.airhistory.net/photo/210889/D-ABYD
D-ABYD again, a few years later.
Early in the 1970's the engine nacelles were modified to get rid of the "blow in" doors in order to reduce noise and IIRC also because the early setup was critical to operate at cross/tailwinds (same like on the C-5)
The new "quiet" nacelle featured a slightly larger nose cowl with thicker, reshaped intake lips.
Mid to late 70's the SATCOM also was removed from most 747s
https://www.airhistory.net/photo/67448/D-ABYD
Mid 1970's a new engine was certified to allow further increased weights on the -200: the CF6-50E2
Seen here on D-ABYX
D-ABYX LH Boeing 747-230B "KÖLN" @ FRA 1987
by
T Jerkson
, auf Flickr
In order to compete with GE's CF6-50 for the increased MTOW variants, P&W developed the JT9D-70A housed in a common nacelle that not only worked for the 742 but also for A300 and DC-10 - the nacelle (largest and heaviest on a 747Classic) was a fail and only few airframes were equipped with it.
SAS' SE-DFZ was one of those few
SE-DFZ Boeing 747-283BM ARN 19790428
by
Kjell Nilsson
, auf Flickr
Another engine option came from RR in shape of the RB211-524..
Here's G-BDXL
G-BDXL_1984-03_MUC_1290_WHC
by
Munich-Riem Aviation Photos
, auf Flickr
In the later 1970's an updated pylon for the JT9D-7.. was available. Note the differently shaped trailing edge.
This is ZS-SAN with the new pylons.
Interestingly, this airframe made quite a transition. It was delivered with SATCOM, "blow in"-door nacelles and old pylons of course but gradually lost all of these "features" throughout the 70's.
ZS-SAN SAA 747-244B "Lebombo" @ LHR 1983
by
T Jerkson
, auf Flickr
Here's the first 747 series -300, built 1982.
HB-IGC features the stretched upperdeck of course, also vissible the new (now standard) PW pylons and the slightly longer nacelles for the new JT9D-7R4.. powerplant which already was closer to a PW4000 than it was to a JT9D-3.
Swissair B747-357 HB-IGC at Kai Tak 6.9.1985
by
Alex Rankin
, auf Flickr
From around 1987 Boeing started switching over to the 747-400 and a few "-400 features" made it to the "classics" already.
Only two series -200 were built with GE's new CF6-80C2 - otherwise still "classic"
Here's 747-2G4B aka VC-25A, 82-8000
USAF VC-25A 82-8000
by
Alexander Kern
, auf Flickr
1987 until 1991 saw some wild mixes of old and new
Here's the last ever built "classic" JA8194. Interestingly the only vissible "-400 feature" on this 1991 airframe is the new aerodynamically refined wing-to-body fairing. Still has CF6-50E2 and HF-antennas on the wingtips
ja8194 30.09.06 ams1
by
Tim Webster
, auf Flickr
Last edited: