Phoenix isn't really my favorite model maker. The shiny wheelhubs aren't my cup of tea, and I loathe their Boeing 747 moulds (except the 747-8), which look stubby and cringeworthy. They released a few nice 747s which i'd definitely get, if wasn't for the bad mould, and this drives me mad. On the other hand, their Boeing 767 is a decent effort! I got myself a Varig 767 in classic colors and was impressed with the model. It is really beautiful, so hats off to Phoenix!
The sad thing is that Phoenix have only a Boeing 767-300 mould. No 767-200 or 767-400 were produced.
So I was kinda bored here in my room and thought about having some fun in Photoshop.
What if Phoenix had a Boeing 767-200???
Here's the original picture of my Boeing 767-300ER PP-VOJ.


After a few Photoshop tweaks, including a change of reg and minor details... here's
Varig Boeing 767-200ER PP-VNR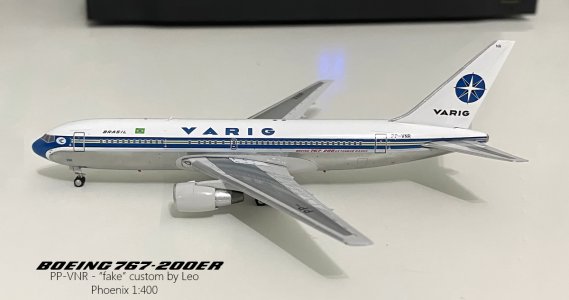 I must say I loved the result! Now I wish Phoenix had a B762. Would be great!!!
Tell me what you think. Would it be better than Aeroclassics or Gemini/JC Wings versions?