YOUR PALACE IN THE SKY​
In the Golden Age of Aviation, Air India was among the top airlines for their extraordinary services. When they received their first Queen of the Sky in 1971, the new livery "Your Palace in the Sky" was introduced, and it was among one of the best classic liveries ever on an aircraft. The aircraft is not only on the outside but also in the inside and even featured an upstair lounge - a feature later removed. In 1998, AI received a pair of Boeing 747-337(M) (VT-EPX/EPW) fresh from the Boeing factory and they were amongst the last B743 ever built. Originally both had black antiglare on the nose but later received the blue one. I only had the chance to pickup one of the beauty and the classy black antiglare was my choice. Let me introduce you the
2022 BigBird 1:400 Air India Boeing B747-337(M) VT-EPX
named Narasimha Varman
, a complement sticker by ciero is also in the box. VT-EPX, which had F16C40Y227/Cargo config (data from Planespotter), briefly wore the experimental new Landor livery, which did not came through. I would say this model is the release of the year 2022 for me! Fortunately, AI's current livery is as good as their old ones, but I prefer the white fuselage with chrome belly more. Here are the pictures which was taken on my phone and processed. The sky is not in the most ideal condition but I hope you all enjoy the photos!
First, let's look at the real example: VT-EPW at CDG. Credit to the photo-owner.
Port-side with Hindi "Air India" title.

20221009_103516-01
Starboard-side with English title. Look how gorgeous and reflective the chrome is!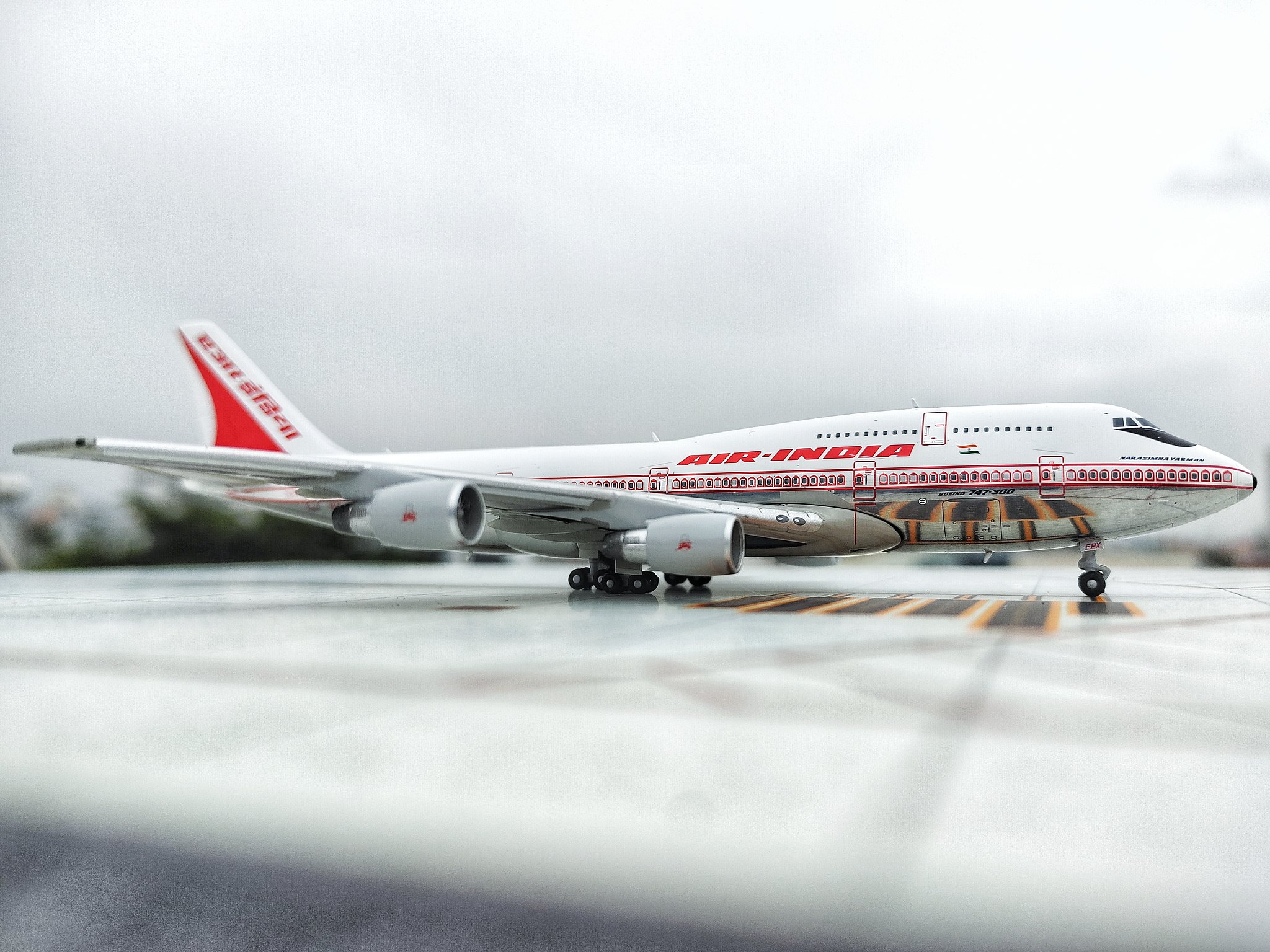 20221009_103747-01
Closeup to the nose with the black anti-glare.

20221009_103654-01
The distinctive nose of the 747 is done right on the BigBird mould.

20221009_103719-01
The Palace in the Sky livery is famous for its temple-painted windows! Just amazing! My question:
is this the original 747 classic wingroot (wing-to-body fairing)?
If yes, this is the part the model is wrong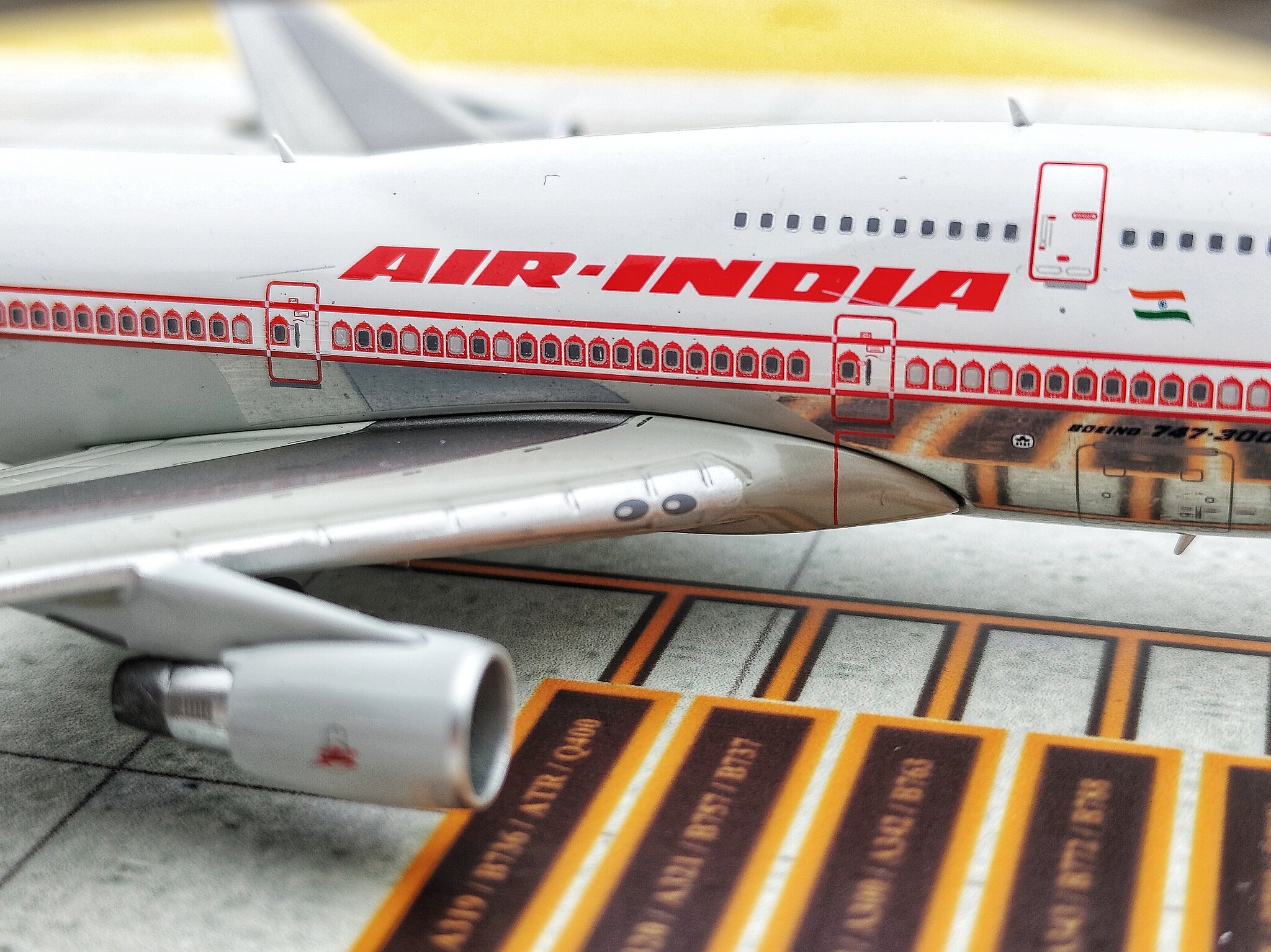 20221009_103848_HDR-01
Port-side tail section with "Your Palace in the Sky" wording at door L5.

20221009_103614-01
NO STEP is printed precisely on port-wing.
20221009_104157-01
As this is one of the last B743 built, the HF-antenna are in the vertical stab, therefore the iconic "pointy thing" is not present on this aircraft.
20221009_104246-01
The powerplants on this jet are 4x GE CF6-80C2B1, the newer version of the GE CF6 family, which is the key engine onboard the modern -400 variant. However, it concerns me that the engines featured on this aircraft is the older CF6-50, with the more bulbous shape. Can anyone help me with this?

20221009_104222_HDR-01
Photo from the starboard side from the tail. I like this perspective so much.

20221009_103910-01
A shot of AI 743 together with CX ones. Which one is your preference?