The Lunar New Year is coming in a week and I was just released from university after having completed the exam for the last subject before holiday. Today, I would like to share with you the last aircraft, also the missing piece of my Boeing 747-300 collection -
Swissair 1980 livery a.k.a "Chocolate Bar" scheme
. I have previously shared my
Cathay Pacific's iconic Lettuce Sandwich
powered by RB211-524C4 and the masterpiece
Air India classic livery
powered by GE CF6-80C2B1. By then I have yet to have any B743 powered by Pratt Whitney - the manufacturer that provides the most engine for this type. Looking at all models made in 1:400 scale having the PW, only the Swissair "Chocobar" stands out and the quest was on. I knew that this would not come out very cheap and I was not wrong. However I found that I am still lucky to have scored this one, though it is being the priciest model that I have in my collection - crossing the 3 digits mark (the model alone only stands at 2 digits but shipping price was not kind). First would be the picture of the 3 743s I have in my collection, the SR stands furthest.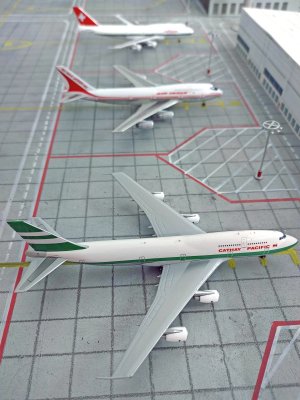 The previous flag carrier of Switzerland - Swissair (SR/SWR) (not to be confused with the current Swiss) has a long and rich history. The airline entered jet-age with the Caravelles. The growing capacity demanded a larger jet and 2 B742 came into the fleet. In 1983, the airline started to receive the B743. Initially 4 were inducted to the fleet (a Combi pair with Swiss registration and a standard pair with US regos, later changed to Swiss reg) and 1987 another 743 - a Combi joined the fleet.
HB-IGD (MSN 22705, LN 576)
was delivered to Swissair on March 5th, 1983 - the first 743 that came to the airline and bore the name
Basel
. Here are the real photos of this machine, credits to their respective owners.
Please notice the engine sizes relative to the fuselage.
The
port side with SCD (Side-Cargo-Door)
taken at GVA.
The
starboard side
taken at the famous Kai Tak.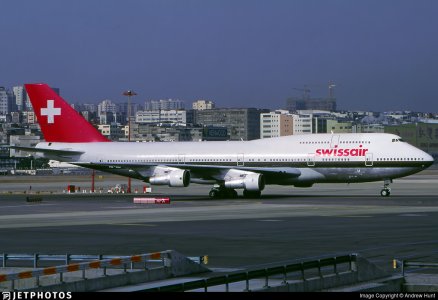 Now, let's head to the model itself. I think you might have seen these on my Instagram but IG only allowed 10 photos per post (here also) and I don't like double post on IG. Therefore you can see full 16 photos in this thread (divided into 2 separate posts).
Port side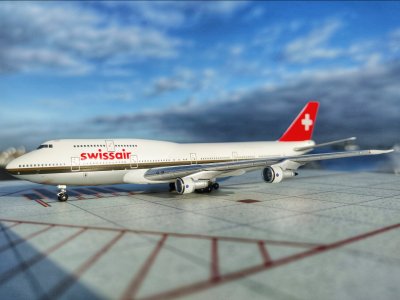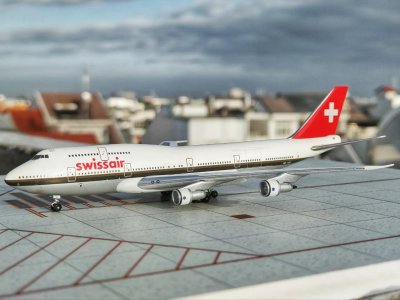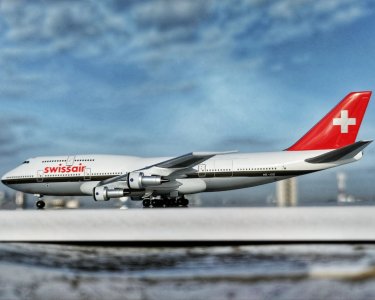 Starboard side