Hello everyone. Here's a look at the history of Allegheny's DC-9s, all the way through their operations at USAir, then US Airways, and where the fleet went after. Requested by a fellow member of the forum.
1 - Delivery Vistajet (1966)
Allegheny took delivery of their first DC-9-30 in 1966, wearing the Vistajet livery. Here's one that had the Vistajet titles:
I like the black nose on this livery above. Later on, the Vistajet titles were removed from under the cockpit. A later rendition of the livery showed updated ALLGEHENY titles which reduced the letter separation and changed the italicized text to normal text, otherwise the livery remains unchanged.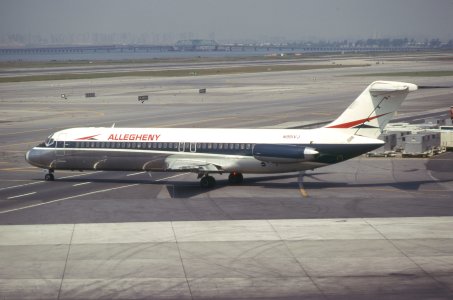 2 - Red Stripe (1975-1979)
1975 1974, Allegheny took livery of the lengthened Series 50. To my knowledge, none of the Series 50 would wear the earlier Vistajet colors and instead were equipped with this Red Stripe livery. That same year, Allegheny changed their livery to a more simple red and white paint scheme. It looks clean, but I do prefer the earlier Vistajet-era colors.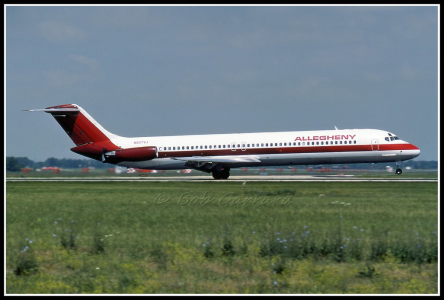 3 - USAir rebranding (1979)
With the USAir rebranding following Airline Deregulation in the United States, the initial change was only the titles, so it created a "kinda sorta" hybrid for a time. Most of the fleet ended up having this livery.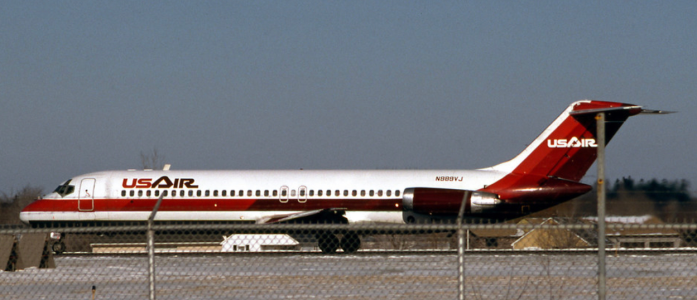 4 - USAir (1980-1989)
USAir introduced an updated livery which made the plane bare metal, but kept the red stripe from the later Allegheny days: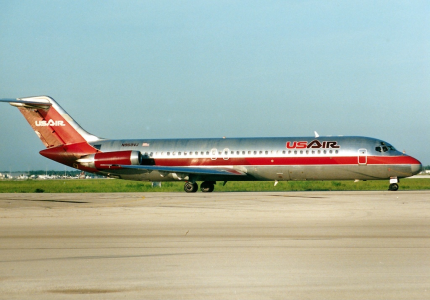 5 - USAir (1989-1997)
Another update came shortly before the 1990s. The red stripe remained in the fuselage, but the tail and USAir titles were updated. USAir kept the DC-9s until 2001 before they were replaced with the more fuel-efficient Airbus A320 family.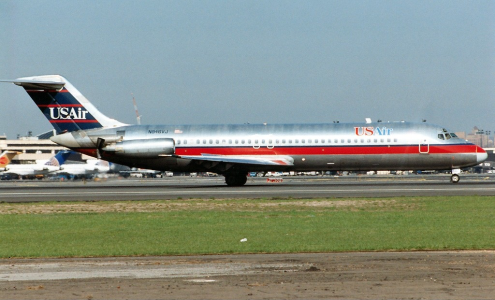 6 - US Airways Shuttle (1997-2001)
Some DC-9s lived to see the updated US Airways name, but they never got the full US Airways livery to my knowledge. This I didn't even know existed until putting this all together and it's kind of unique. Now I want someone to make a model of this (Aeroclassics?)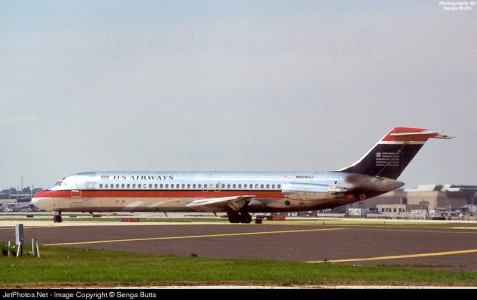 Here's one with the added Shuttle titles:
While most of the DC-9s stayed with US Airways all the way through their retirement in 2001, a handful went to other carriers like Hughes Airwest, Hawaiian, and one to Bonanza and Texas International each. Hopefully you enjoyed this read!
Last edited: