The story goes that one time in the early nineties Boeing was running into some delays to deliver some 747-436s to BA. With mounting pressure from shareholders and the loss of profit, one early morning Lord King had had it and took a Concorde straight to Everett! (fuel stop t JFK) It was still midnight on the U.S. West Coast when Boeing got word that King was en-route, so they quickly grabbed a NTU -4XX with GE engines they had handy and did the best they could to apply the BA livery on it in time for King's arrival. Turns out Lord King liked the livery so much that he requested that a 747-436 that was a Sea-Tac and another Concorde that was doing a charter in the area, dropped by for a photoshoot. (If you are going to fantasize, go all the way).
Said aircraft received the reg. G-FTSY "Gee-Fantasy!"
On a JC Wings blank mold.
Nosewheel does not touch the ground. Look at the shadow and you will see the cardboard was raised to contact the NLG: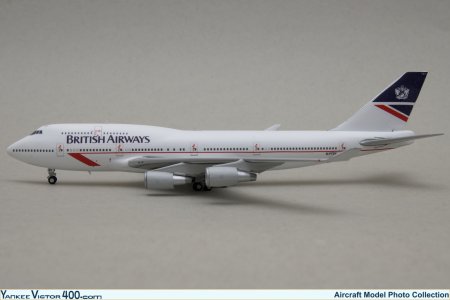 Too low cockpit windows: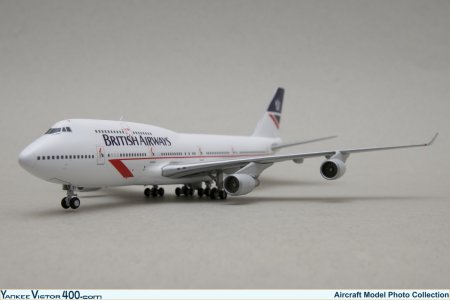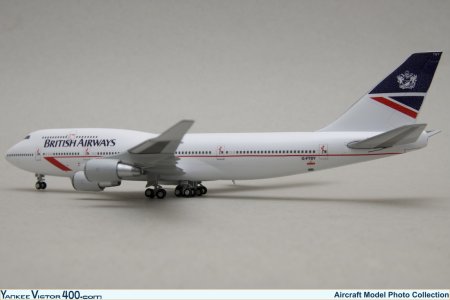 With regular Landor 747-400. Look at the properly printed cockpit windows on it by, of all people, GeminiJets.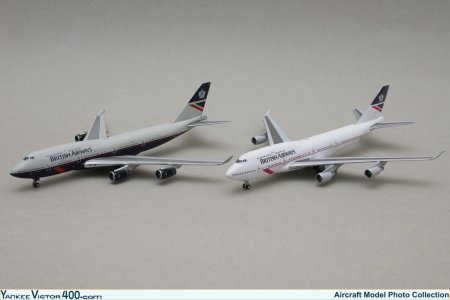 And with Concorde, the aircraft that did wear this version of the livery in real life.