Hello everyone! Today we have another livery history, this one consisting of the American MD-80! Not much changed across this aircraft physically through the years, but it was such an iconic aircraft for American Airlines.
1 - Delivery (1983)
In May 1983, American took delivery of their first Mad Dog, N218AA. This aircraft went to Jet Midwest Group in 2011 and has unfortunately been scrapped. I couldn't find a good photo of her when she was first delivered, so here is a photo taken of another Mad Dog. Note the black nose and the Super 80 titles above the metal piece (I don't know of its name).
This is a good segway into a more general assessment of the livery these Mad Dogs wore during their first few years. It was the standard American livery, but is known for the black nose and the Super 80 titles to distinguish it from its other aircraft. Their fleet would expand at a healthy pace throughout the 80s and 90s, and before long it would become the common aircraft in the sky, similar to how the Boeing 737 or Airbus A320 are viewed among us today.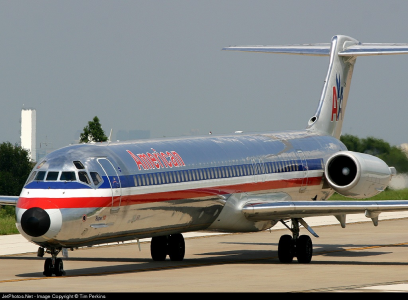 Sometime later, the Super 80 titles were removed, but the black nose remained.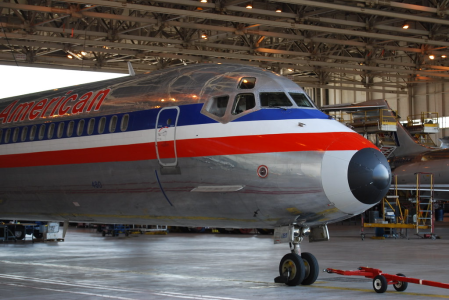 2 - Reno Air Hybrids (1999)
Following the acquisition of Reno Air in 1999, American acquired 27 additional MD-80 and 90 aircraft. They were painted into the American colors but kept the white base color, and did have the Super 80 titles, and I have to say I almost like this better than the normal livery, but it still beats out this!
The MD-87s and MD-90s would also get the hybrid treatment: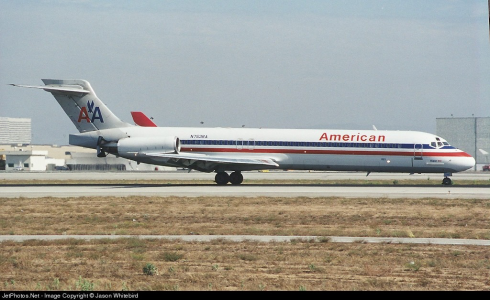 All of Reno Air's fleet wouldn't last too long with American, as they were all transferred to other airlines into the 2000s.
3 - TWA Arrivals (2001)
Two years later, American would get a plethora of MD-80s from Trans World Airlines, or TWA. By this point, the base American livery was given a slight update, with the black nose coming off and replaced with a gray nose. Some hybrids did exist for a brief time, with this one being seen on 717s and 757s also: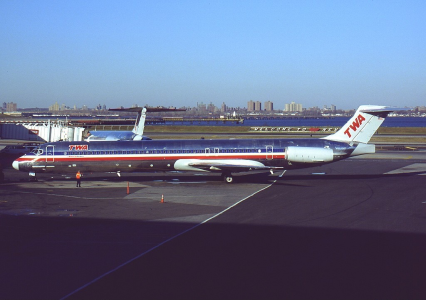 Eventually, all ex-TWA MD-80s would be painted into full American colors. In total, the airline would operate 383 MD-80s.
4 - Final Years (up to 2019)
N984TW was the last MD-80 built, originally delivered to TWA in December 1999. The plane would go to American and flew the rest of its career with the Chrome.
It would fly the very last revenue flight for the type, AA80, from DFW-ORD, on September 4, 2019. It is currently stored at Roswell, but I am hoping someone will step in and preserve it. Many other MD-80s are preserved across the country for various uses, but this one holds the most significance due to it being the last one built. The American MD-80 is forever an icon.
#LongLiveTheMadDog. Feel free to post some stories about your experiences with the American MD-80. My parents got to fly on one in 1999; they didn't know what they were flying on, but I did some digging recently and found the MD-80 to be operated on the flight they were on.