Until about a year ago I didn't collect airlines from the CIS, outside of Russia itself. Uzbekistan Airways has a delightful livery and I was expecting it to be quite hard to pickup their models in 400 scale (there have been a decent 9 releases) seeing as most are quite old. Somehow I've had a lot of luck though and managed to pickup 5 of them, plus an excellent custom from DT Customs. They have come from a variety of sources - the Il-76 from Waffle, Tu-154 oc from the AMS show, Tu-154 nc from Kunal Chopra and Il-86 from Ian Martin at the MAN show.
Most recently I've added the Aeroclassics 767-300 from a private seller on Facebook.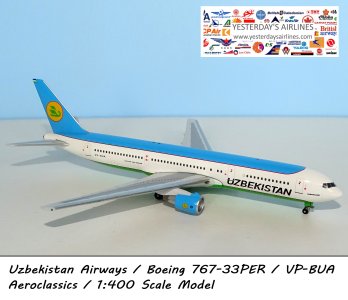 The pair of Il-86s look great together.
Here's the fleet on display: