Hello everyone! Here's a fun Livery History for today, this one being the Frontier Convairs from their 340 origins to their 580 days.
1 -
Green Crescent/Arrow (1959-1964)
In 1959, Frontier took delivery of their first Convair 340s. Their first was N73121, delivered June 17 of 1959.
Aircraft were also given names at this time. The name is a bit hard to see in this photo but if you look closely, you will see a little black line, which is where the aircraft name is. However, names like Sunliner Navajo were given.
2 - Blue & Yellow Crescent/Arrow (1964-1978)
In 1964, Frontier got their first 580 conversion, which is an upgraded 340 model with Allison turboprops. Service began that June. Similar conversions were made with other airlines and had different designations. A 540 model had Napier Eland turboprops, 580s with Allison's, and 600 and 640 models had Rolls Royce Dart turboprops. Right around this time too, an updated livery was introduced, replacing the older Green Crescent with a yellow one and a blue cheatline. Small FRONTIER titles were added just behind the crescent, along with JET POWER 580 titles just underneath the cockpit windows.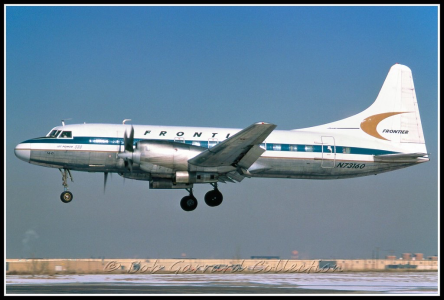 In 1967, Frontier acquired Central Airlines, which added the Convair 600 to the fleet for a brief time. They also got additional DC-3s, but they were quickly phased out. The 600s lasted until the end of the 1960s. Not many photos were available of this but I found this photo of one in Oklahoma. Note the JET POWER titles underneath the cockpit windows; they didn't have the 600 number added. They also had slightly different FRONTIER titles compared to the 580, which had the letters closer together.
3 - Saul Bass (1978-1982)
A new identity was unveiled in 1978, created by graphic designer Saul Bass. By this point, he had made iconic logos for Continental and United, and Frontier was the next in his lineup of logos.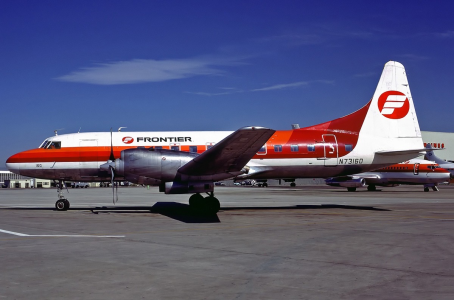 These Convairs didn't last long after the Saul Bass era began, though. Service officially ended in 1982 in favor of their 727 and 737 fleet. The airline was acquired by PEOPLExpress in 1985, then collapsed the next year, but the iconic F was reintroduced to the current Frontier in 2014, which I found as a nice touch. I hope you enjoyed this read!
On an unrelated note, Gemini Jets, get to work on a Frontier Saul Bass Convair 580 please! I know lots of other retro collectors would be dying to see those.