KLM's original blue top livery is as iconic as an airline livery can get. Not only were they one of the few airlines to choose a vivid color as the main component of their livery, but they chose a beautiful one too.
After all the personally relevant types that wore this livery entered my collection – that is, after I got at least one example of each one of the KLM long-haul types that were commonly seen in my neck of the woods during the 1990s – I decided it was prudent to push the limit of my main collection focus and see about adding a short-hump 747-206 to my blue top fleet. After all, when it comes to such a beautiful livery, the more the merrier. Plus, even though by the time I was born all KLM jumbos belonged to some sort of stretched upper-deck variant, it was just rude not to have a short-hump blue top 747 in my classic euro-jumbo family.
Overcrowded shelf showing KLM and Lufthansa 1:400 models.
Now, as many of you may know, or at least can guess, these are in short supply and high demand, with only three versions having been produced (two by Aeroclassics and one by GeminiJets) in the 2006-2007 period. I had been closely monitoring eBay for over a year in search of one of these, as well as looking periodically in other places with no luck at all. Then, in October 2022 two of the GeminiJets' example (PH-BUN), popped up on eBay within days of each other. IIRC, the first one had a starting bidding price of about $60, with a Buy it Now option of about $90. This was not bad for such an attractive and hard-to-find model, and apparently I was not the only one thinking that because early on during the bid period the model disappeared; presumably after someone (not me) paid the Buy it Now price. Then I moved on to the second option, this one was located in Australia, it was damaged - missing the starboard HF antenna, and already had some bids.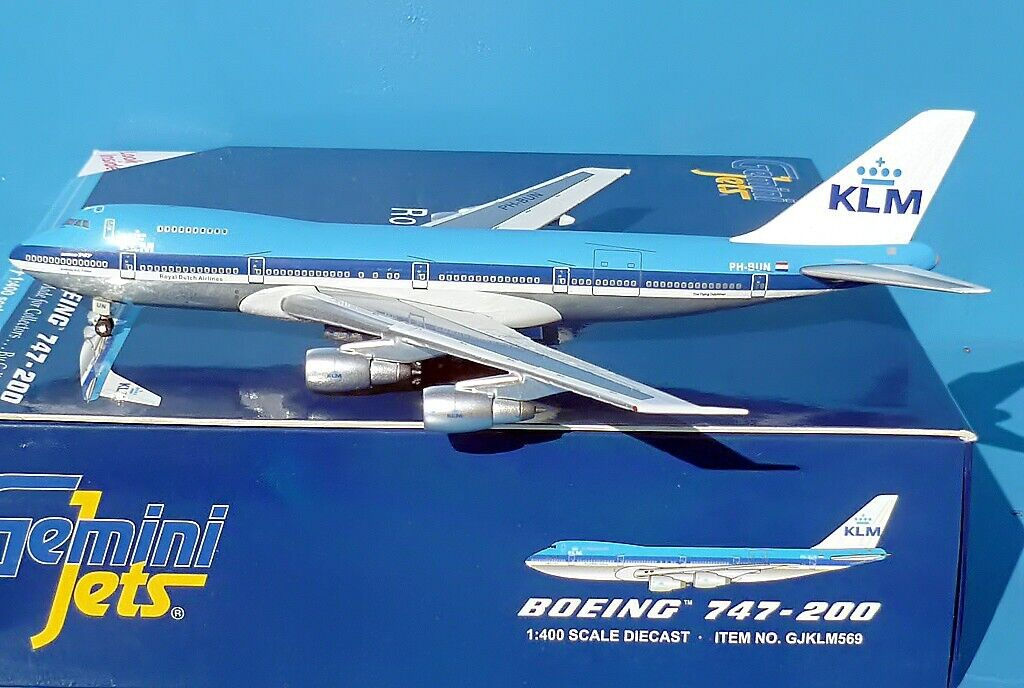 Picture from the eBay listing showing the missing starboard HF antenna on this 1:400 replica of KLM 747-200 PH-BUN
My initial reaction was that I was not going to go to a bidding war for a broken model. But after putting some thought into the situation I realized that I had a few things in my favor. I happened to just have bought a box of 700 sewing pins and was cutting them to varying lengths for a diorama project. I also have a parallel project that required me to do some color blending to paint some engines with a very light shade of grey (or a darker white). So, I thought maybe I was well-positioned to attempt to fix the model in question. As an added bonus, the exchange rate was working in my favor, and knowing how hard it is for these things to pop up I decided to give it a try.
Below you get a sneak peak of what goes on behind the scenes around the house, and why attempting this fix was not going to be a particular nuance. Left: painted engines with a color blend. Right: sewing pins cut to use them as fence posts and parasol sticks.
Let's say that the cost of the model was very reasonable, but, as is the case nowadays with overseas shipping, postage was a bitter pill to swallow. So, while not exactly cheap, the purchase ended up costing less than what the first model had gone for, and not too far off from what I'd expect a current production 747 retail for. At any rate, three weeks later the model showed up at my door very well-packaged and in very good shape, barring the missing HF antenna. It went straight to the shop.
Detail of the missing HF antenna. The model and box are in near-mint condition otherwise.
To fabricate the HF antenna, I took the edge off of one sewing pin by scrubbing it against a brick wall in the side of the house (a public sidewalk will do just fine too) and then did my best to cut it to size with pliers. (It is wise to use eye protection when choppin sewing pins)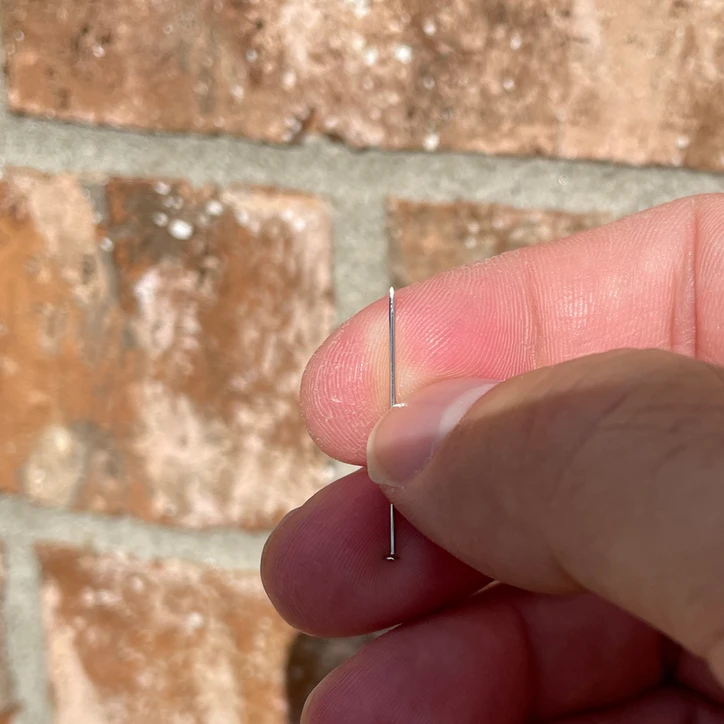 After a touch of super glue, and some tense seconds holding it in place with my shaky thumb, this was the result:
Later that evening I fine-tuned my previously mixed light grey paint to match it as close as possible to the color of the model. I must admit that getting the color right was a lot easier than what I had expected. I do hate painting however, so I just did the best I could. You can see a small chip on the tip of the homemade antenna as a result of handling the model before the paint was fully cured.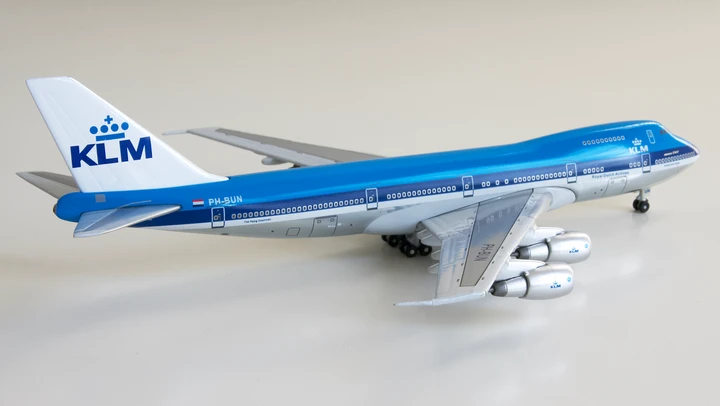 Obviously, it is not a perfect job, but as far as I am concerned, I have restored a lot of the value of this hard-to-find beauty. And given the fact that I had to go a bit out of my way to make it work makes me appreciate the model a lot more.
Special thanks to JC and GJ for keeping those fine 747 molds safely stored away so they don't get in the way of the production of disproportional amounts of more modern subjects. Otherwise, I would have missed out on all the fun of hunting this one down and my creativity would have been hampered
The original publication can be found on:
https://www.yankeevictor400.com/post/saving-a-grail-homemade-hf-antenna-for-klm-747-200-ph-bun