This model in particular is something that I hold near and dear. It's honestly hard to describe the excitement, joy, and nostalgia that just hit me when it finally landed in my doorstep literally yesterday afternoon. And I was even more estatic when Phoenix announced it, I immediately preordered it without a second thought. This model has brought back memories on the longest and one of most memorable flights I ever had.
A Brief History
The first time I flew the world's longest flight with Singapore Airlines was back in summer 2004-2005. It was my first time flying the A340-500 (and the only time). It was my first time flying SQ in business class (at the time, they called it
Raffles' Class
). And, it was my first time visiting Singapore. This was, in my opinion, Singapore Airlines at its best. On the return flight, I practically begged my parents to buy me a model of the A340. Can't remember the brand, but I think it was a Herpa 1/500 scale.
Fast forward to July 2019, my sibling and I flew the flight again. This time, in premium economy on their A350ULR. The flight was fantastic as ever, even in premium economy. But, there was something incredible to kind of brag that you flew on the world's longest flight for the first time, in business class, and seeing those massive 4 engines as a kid~
The Model
I'll be honest, I was very excited when Phoenix Models announced the SQ A340. However, I was a little skeptical about the quality of the model. While I love their A340 moulds, their detailing is not up to par to other manufacturers like NG Models, Aviation400, and JC Wings. So, when the model arrived, I was very surprised how it turned out.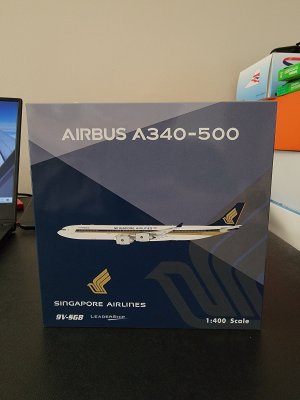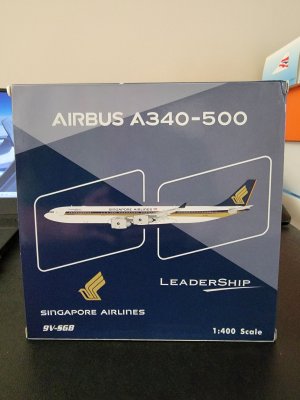 Box Art
|
Left: Front side; Right: Back side
Phoenix's box art is a bit interesting. They certainly don't have the most bland design (
looking at you, Geminijets & JC Wings
). But, they don't have the most unique. All of the box art from Phoenix I have look like they took a stock photo, slapped on the model art, and called it day. However, this box art of Singapore Airlines is a step in the right direction, in my opinion. My nitpick would be that it is a bit simple; similar to AV400s box art.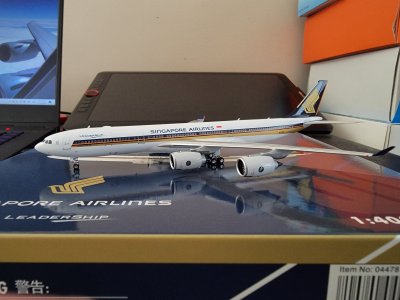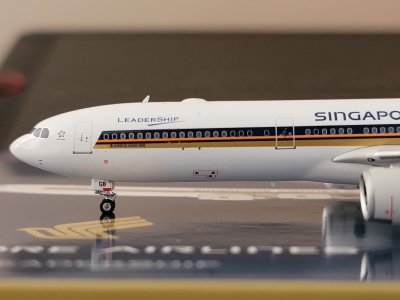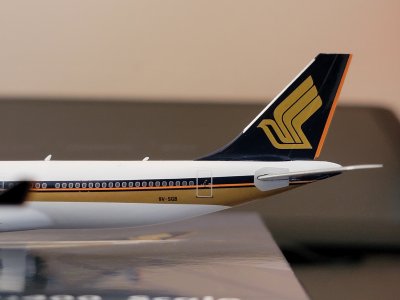 I was taken aback when I first unboxed the model. Like before, I really like Phoenix's A340 mould. The printing quality is excellent, and I found no issues. If I had to complain, there are a few issues.
Detailing is a little lackluster, especially on the wings
The blocked out windows stand out a bit
The dark blue/navy is a bit too dark
The Engines
One of my biggest gripes about Phoenix Models is that their engine fanblades greatly lack detail. Majority of their models' engines are coloured pitch black with a few nubs that act as "fanblades." So, when I have a Phoenix Model arriving, the first thing I would check are the engines. As for the SQ A340, I can positively say these engines are wonderful! Lovely detailing on the fanblades, and great printing on the covers.
Landing Gear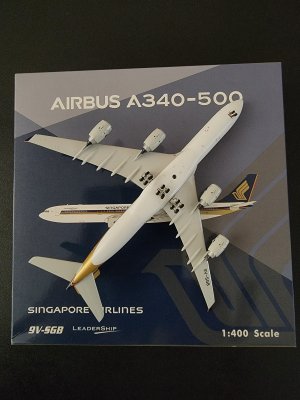 Like all other models by Phoenix, their landing gear is very nice. However, it is too shiny and does not show a lot of detail compared to other manufacturers like NG Models (
I can say AV400 suffers this issue too, but their landing gear is better detailed
). Another thing I would like to point out is their undercarriage feels barren. While there is printing and antenna, it is fairly faint and is difficult to see.
Conclusion
I am very impressed by Phoenix Models. Like I said before, this model sits very close to my heart, as it reminds me of my amazing flight experience with Singapore Airlines, and basically my love for aviation and travel. Phoenix's A340 mould is great, and I'm glad they are continuing the use it (
they recently announced a Lufthansa & Thai Airways A340-600
). The printing on the model is great, with no defects found. On top of it, I am most impressed by the engines.
I can't say the same for everything, though. Detailing is pretty lacking, or is very difficult to see. But, that is with every model by Phoenix. Landing gear is very shiny. And the colour is slightly off.