It's Christmas night here in Vietnam and only now that I have the time to do this post (I had Thermodynamics final exam yesterday so the period before I was really busy). In November I got really lucky to acquire 2 BB400 Cathay Pacific 747 (one of the priciest combo). The B744 came with zinc rot and broken horizontal stabilizer which I had successfully fixed but a new problem rose: the paint cracks faster when it arrived at my place so I thought a clear coat would be good - it turned out to be disastrous. It would be repaired soon with the help from my friend and the model would be featured in other thread. I nearly won the VR-HKG B747-200 from BB, which would complete the Lettuce collection but I was not lucky enough. Here is the beautiful Brushwing livery, first introduced in 1994 coincide with the arrival of CX's first Airbus. The livery was adopted to many of Cathay's aircraft before the arrival of the 2015-updated Brushwing. This example, a
2006 BB400 Cathay Pacific Boeing 747-267F
is a beauty to behold! I was lucky to pick this up from eBay with me as the only bidder. It was unthinkable for this model with its relatively low starting price of EUR29 (around 30USD) without shipping cost - shipping cost was around 12EUR for me. A close-up shot from the front would be the best start. The iconic 747 look is from this angle.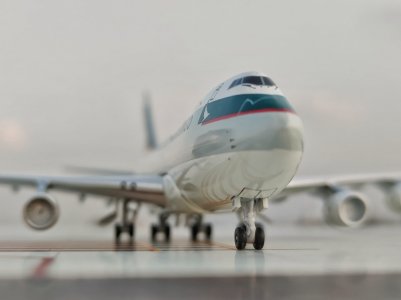 The detail level on this model is high - I can't believe that the small "No Step" mark was printed so clearly. Here is it under the macro lens.
The RB211-525C4 is well represented with detail printing. Of all engines on the 747, the RR is my choice. What is your favorite engine on the B747?
The landing gear is well-proportioned with "VX" from its registration.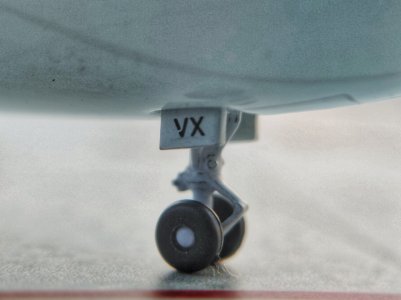 A shot from above. The HF is what makes the original 747 so classic. This detail would be discussed later.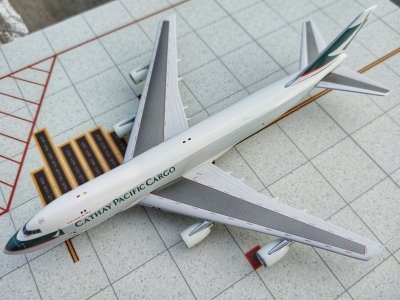 A ground level view, also from the port side. I think the 3 downsides of this model are: too high cockpit window position, too low nose cargo door position and the big cradle gap. This can explain why it received much less interest as comparison to other BB400 747s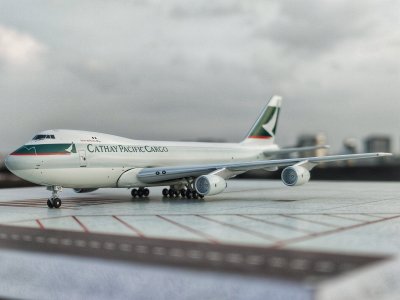 The series comes to an end with a sunset shot, this time on the starboard side.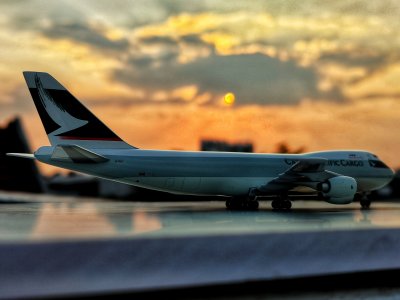 But, as I have mentioned before, the HF antenna is the star for attention of this specific airframe B-HVX. Here is a real photo of the aircraft. Credit goes to its original owner.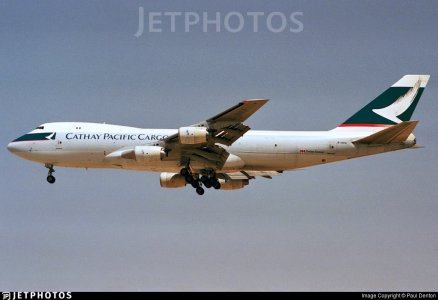 As it turns out, the real aircraft does not feature the antenna, as it was one of the last 742-built (however the last 742 built delivered to Nippon Cargo had the HF antenna but with the new wing-to-body fairing). But turn back to the history of BigBird, many 747-300s were made without the HF antenna whereas the real machine had (examples are JAL, Saudia, UTA). 2 CX 747-200F in Brushwing livery that BB made in real life did not have the HF-antenna but the manufacture gave it to the collectors anyway! I knew this fact through a post of a Hong Kong collector, who bought the CX B747-200F with 1 HF broken. After his research, he found that the real model did not have either so he clipped the other HF off. However, for my case, I would still keep the HF antenna as it is made very delicate and thin like the real Queen of the Skies. I have another B747-300 on arrival which I hope to receive before the year end, this was not made by BB400 to start with but I consider this model to be the perfect combination of mould and livery. Can you guess which aircraft is that?